Visiting the Keys? Aquaholics offers several options for lessons!
Lessons are available ANY day by making advanced reservation.  Call us to discuss options. 305-330 -9874.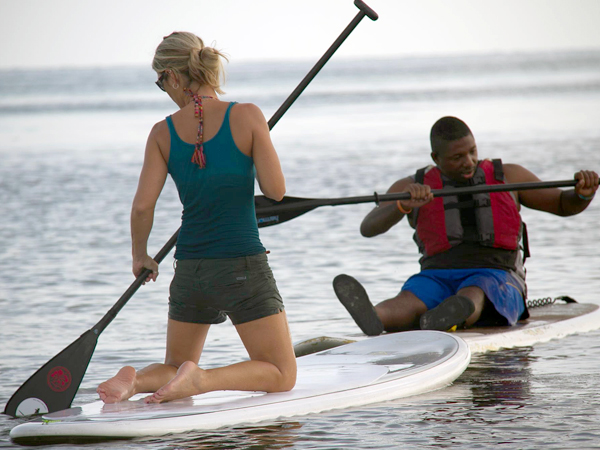 Stand Up Paddling is a fun way to explore the florida keys!
Our  level one lesson is focused on teaching people with no SUP  experience at all. Our one hour Stand Up Paddle Board Lessson will take place in the calm waters on the bayside or the beach at post card or we can come to you. We will cover all the basics; getting familiar with equipment, water entry and balance, proper stance and positioning on the board, efficient paddling technique, and safety and etiquette. We are all certified paddle instructors and will teach the proper sanctioned techniques. This will start on land and then go for at least 45 minutes water time.
We have level 2 lessons for advanced paddlers. This will focus on proper technique, more safety self rescue skills and advanced turns and paddle strokes. We can video your current stroke and assess strengths and weaknesses. This will be an hour water paddle.
Level 3 lessons will focus on fitness paddling, advancd paddle technique and  race skills. This will be an hour water paddle.
All advanced lessons will be with Jen.  Jen is a certified Paddle Fit level 3 instructor and has won and placed in several Paddle races.
Level 1 lesson
land and water time hour lesson
"Thanks to Jen at Aquaholic Adventures! Had a great day of paddling with friends. We were all a little worried because we didn't have much experience with Paddleboarding but Jen gave us some great pointers that made us all feel more comfortable. We will be back next time we visit the Keys!"
"We arranged a standup paddle tour with Jen and had a wonderful time! None of us had SUPd before and she was very patient and a gifted teacher. She is also very knowledgeable of the local wildlife, sealife, and plants and pointed out interesting things for us to see. The manatee in the canal seemed to recognize her! It was the highlight of our trip and now we all want to buy boards."
"Instructor Jen was great! Was standing up paddling in no time. My 3 yr old had a blast. The dolphins were a great suprise. Wish I could do all the yoga Jen was doing. Maybe after a few more lessons!"